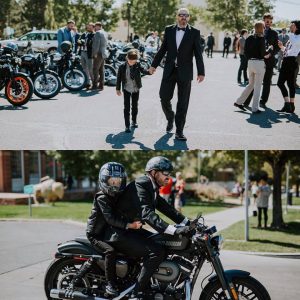 Yes, I'm there on the left with my son Felix. One of his (and my) favorite things to do is take one of my Harley's for a ride. This was The Distinguished Gentleman's Ride.
Raised in Salt Lake City, UT, I was eager to get out and explore the world after graduating. I lived in NYC for about 10 years and then one day up and moved to Buenos Aires. It's here I found my first work "calling" as a Recruiter.
Turns out I was pretty darn good at Recruiting and ended up becoming a partner in the company I started recruiting at. We grew the company to almost 500 people in 4 different countries.
After a 2 year stint in Singapore, my wife and I moved back to Buenos Aires where Felix was born. At this same time, I decided it was time to be my own boss and I started what was to become a very successful boutique recruitment firm.
Little did I realize that while I loved being my own boss…I really wasn't. I answered to my clients, the hiring managers, and even the candidates we were recruiting. Having a global team, I was on call 24/7 working 60-70 hours per week. The most frustrating part of the business, and what really drove my decision to leave, was that my (and my teams) success didn't really depend on our performance, but the whims of others. A manager that didn't like how a candidate sounded on the phone. A candidate that was excited about a job on Monday and called back on Tuesday to say he was no longer interested.
But the final straw was that one day I was thinking about my family's last vacation and couldn't remember one. In fact, it had been over 7 years since we had gone on a vacation (and even a few short weekend trips really didn't count because I would still work). I was not ok with this and realized it was time for a change. After 14 years of recruiting I was done.
It was soon after my mental epiphany that I came across a 21-step program that changed my life! No longer was I going to be beholden to the corporate world. No longer was I going to sacrifice my time for others. It was time to focus on me, my family and our freedom.